Agents using Wunderite now have the ability to mark form questions required. Make the renewal process smoother and faster for everyone involved by…
Making it clear which questions are required for receiving a quote. For example, most carriers require annual revenue, employee count, and annual payroll on supplementals.
Ensuring agents receive completed applications from their insureds faster, saving them time by reducing back-and-forth communication.
Giving insureds an escape hatch! We included an option to Get Help From My Agent. If an insured get's stuck, they can conveniently send their agent a message for help, from Wunderite.
Marking questions required
Agents can mark questions required on individual forms and on Form Templates. We recommend taking advantage of the power of form templates to cut down on duplicate effort. If you're unfamiliar with Form Templates, take a look at our blog post that includes a walkthrough video.
Mark a single question required by hovering over the question and selecting the asterisk ✳️ button.
Mark two more more questions required by first selecting questions using the checkbox on the top right of a question. Then, select Mark Required from the bulk actions menu on the left sidebar.
The next time you add this Form Template to a Risk Profile, the questions will automatically be marked required.
To mark questions required on an individual Form, the only difference in the process is how you navigate to a form: from a Risk Profile, select Forms, then select an existing form or add a new one.
Filling out a form with required questions
When an insured opens a form that is assigned to them and has required questions, by default the questions will be filtered so they see only questions assigned to them or required questions (regardless of assignment).
Insureds and agents won't be able to mark a form complete unless all required questions on the form have been filled out. If someone tries to mark a form complete that has unanswered required questions they will see this warning modal: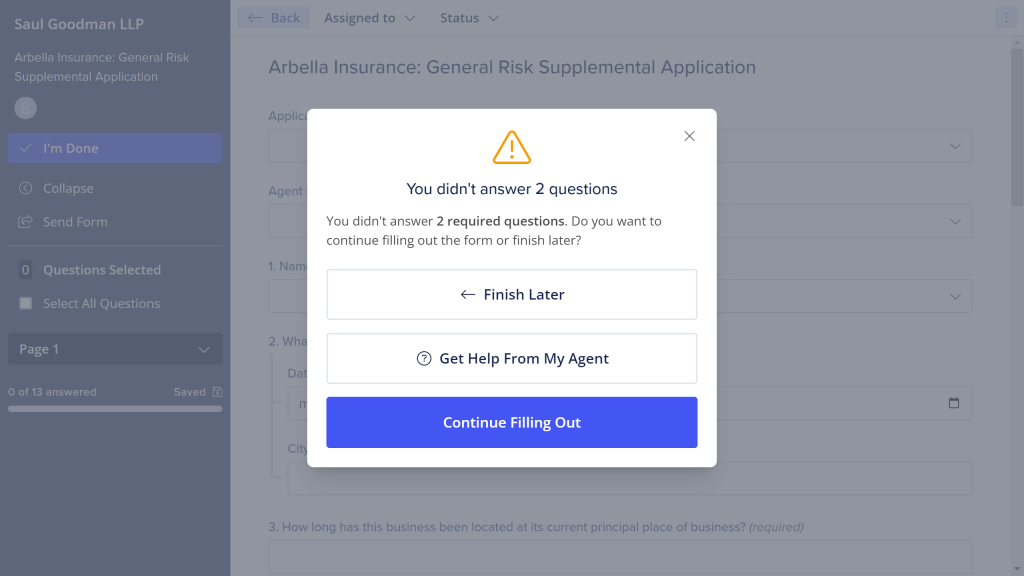 Finish Later
Leaves the form incomplete and sends the user back to the forms page.
Get Help From My Agent
Displays the agent's phone number (if they have it saved in Wunderite) and prompt the insured to send an email message to their agent.
Continue Filling Out
Sends the user back to the form. We highlight required questions in red and automatically update the filters to only display Required and Unanswered questions.
Some caveats
There are a few caveats with required questions to keep in mind…
A question can either be Not Applicable or Required, but not both.
Group and table questions are considered answered if a customer answers any part of the group or table. Agents don't yet have the ability to mark specific parts of a group or table question required.
Checkbox questions are considered answered if one checkbox is answered in the series.
How can we improve?
We want to hear more! Eventually we'll have the ability to assign or mark required individual questions in a group or table. How else can we help streamline your business? Reach out to your Customer Success Manager or email me at [email protected]. You can also provide feedback by booking a time on Calendly here.
Philip MacDonald
Manager of UX